---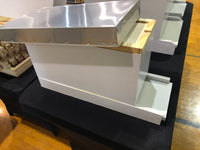 Langstroth Nucleus Hive Box / Resource Colony Box / Queen Mating Box

This is a 5-Frame Assembled and Painted Hive kit consisting of:
1x Assembled and Painted Solid or Screened Bottom Board
1x Assembled and Painted Deep Brood Box with blind dovetail joints
1x Assembled Inner Cover (not painted, but you don't paint this anyway)
1x Assembled and Painted Telescoping Cover 
Please note that these assembled boxes have blind dovetailed joints for a stronger box and it helps prevent the corners from rotting.
This box is basically a 5-Frame Nuc box, but it is built like a regular hive with a separate bottom board, box, and lid.  This allows you to stack an additional 5-Frame brood box on top to create a 5-over-5 hive.

These are great to split out a few frames from a production hive that is getting full and might start to swarm.  When done correctly, you are creating a mid-summer Nuc that should grow out to a decent hive.  The parts of this resource hive can be used to fix a failing production hive.  If it is still viable in September, this can be turned into a hive to attempt to make it through winter.  Just ask... I can walk you through it.
With a slight modification, this box can be used as a dual Queen Mating Box.
Note:  This box is 9-1/4 inches wide.  The unassembled 5-Frame boxes that I sell are 9 inches wide.